The xAPI User Conference showcases the best and latest innovations powered by xAPI. This annual conference, co-located with DevLearn 2023, explores the latest evolutions of the xAPI specification, case studies of organizations that have leveraged the power of xAPI in their learning strategies, and practical concurrent sessions across two tracks that will help you build your strategic and technical xAPI skills.
The xAPI User Conference also hosts xAPI Hyperdrive, the industry competition that showcases the most innovative and impactful applications of xAPI.
Whether you're new to xAPI looking to explore its potential or someone experienced with the specification looking to further advance your skills, you'll find the information and people you need at the xAPI User Conference.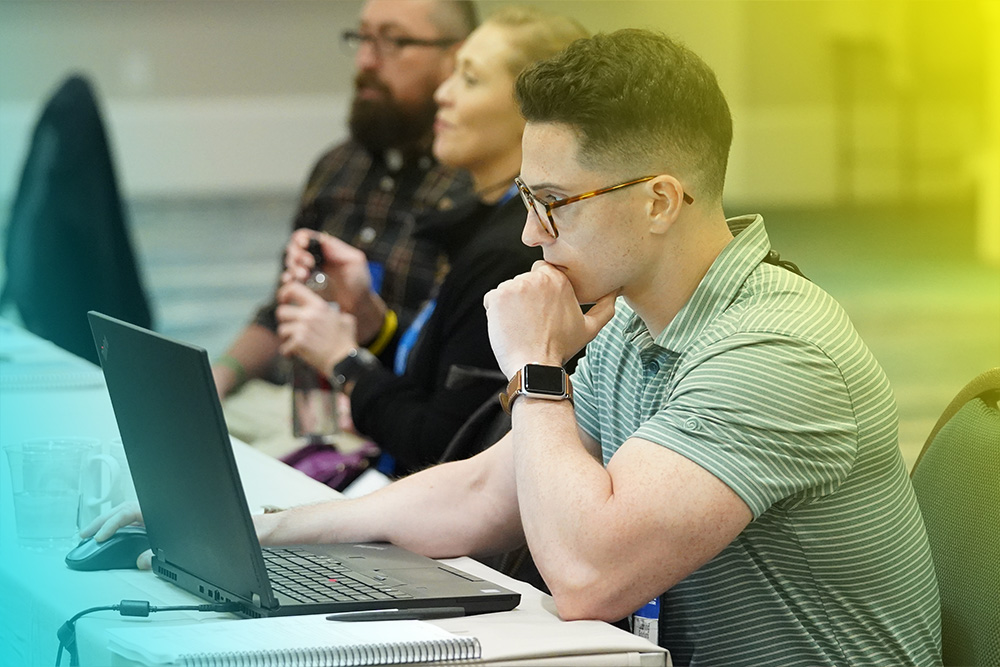 Opening General Session: Exploring the Current State of xAPI
During the opening session of the xAPI User Conference we examine the
current state of xAPI, including recent updates regarding functionality
and adoption.
Speaker: Megan Torrance, CEO, TorranceLearning 
How to send xAPI Statements from Custom HTML 
In this session you will learn how to send xAPI statements from an HTML page using JavaScript.  We will use a free JavaScript library that can both send statements to an LRS and retrieve statements from an LRS.  This library can also work with other xAPI elements, such as the Agent profile, State documents and the Activity profile.  You will leave with a working example of sending and retrieving xAPI statements. 
Speaker: Art Werkenthin, CEO, RISC
What is xAPI?  
xAPI, also known as Tin Can, is a powerful way to capture detailed learning data from activities not only inside an LMS, but outside as well. In this session, we'll examine how xAPI statements capture learner activity and briefly discuss other data xAPI can store. Finally, we'll look at several use cases where xAPI can provide insights across platforms and across the enterprise. 
Speaker: Peter Guenther, Data Engineer, Watershed LRS
Evaluating Tools & Platforms for xAPI 
So you got the basics of xAPI down, and you're ready to move forward, looking at possible tools you can use to both send xAPI statements and capture xAPI statements. How do you go about evaluating the different tools?
In this session, We will walk through various authoring tools and platforms and compare what each tool/platform can do and how you can evaluate and score the tool to see which fits your organization. You will also walk away with an evaluation template you can implement immediately in your search.
Speaker: Jeff Batt, Learning Experience Designer, Amazon
Overcoming Our Learned Helplessness: xAPI's Potential for LXD
In this session you'll understand how xAPI can be used to define success in almost any way, track a learner's experience across multiple contexts and platforms, build courseware that takes into consideration skill level and prior performance, and be inspired to unshackle yourself from the invisible tether keeping us locked to completion checkboxes and test scores.
Speaker: Becky Goldberg, Learning Analyst and xAPI Implementation Lead, Travelers
Using xAPI for Evaluation & Analytics 
The Experience API enables us to collect data about any type of activity, but does that mean we should? Should we really generate xAPI statements for every possible type This session will provide several tips and resources for thinking about xAPI data collection requirements as it relates to implementing an evaluation strategy and adopting models such as Kirkpatrick. 
Speaker: Jason Haag, Veracity Technology Consultants
Creating Your Organization's xAPI Strategy 
One of the biggest challenges L&D organizations face is how best they can use xapi data to inform future strategies and the inability to see a path between where they currently are and where they want to be. It can be useful to utilize a Learning Analytics Maturity Model as a roadmap for planning your strategy as it can give you practical guidance on how to take the next step.
In this session, Page will reveal the latest results from more than 250 global organizations, allowing participants the chance to benchmark their organization's use of data in learning versus their peers.
Speaker: Dr. Page Chen, Chief Experience Officer, Learning Pool 
General Session: xAPI Hyperdrive
During xAPI Hyperdrive you will see xAPI in practice. Six organizations will will have 10 minutes each to "pitch" their application of xAPI to a panel of judges, and the judges will have a few minutes to ask clarifying questions. The judges will score each project on criteria including innovation, business impact, and more. The presentation that receives the highest score will be awarded the xAPI Hyperdrive Winner Award during the closing session of the xAPI User Conference.
xAPI Hyperdrive Panel
During this facilitated panel discussion, we'll take a deeper dive into xAPI adoption with the presenters of xAPI Hyperdrive. You'll learn from their challenges and successes, and take away tips that you can use in your own work. 
Moderator: Megan Torrance, CEO, TorranceLearning 
Considerations for Data Handling, Privacy & Security
The last few years has seen an explosion of interest in cybersecurity subjects such as privacy, authentication, identity management, etc. More and more this topic seems to be at the forefront of minds of the people engaging in the eLearning community, but there are limited resources on the subject, and to a degree limited options available to achieve the goal. Come find out why we refer to this as The Pizza Problem and leave with a piece or two from this pie. 
Speaker: Brian Miller, Rustici Software

Closing General Session: What's Next for xAPI?
In the closing session we will shift our focus to what's next, exploring future updates to the xAPI specification and advancements to its adoption within the industry ecosystem.
Speaker: Andy Johnson, Specifications and Standards Manager, Advanced Distributed Learning 
Do More and Save!
Save $100 on your xAPI User Conference registration when you also register for DevLearn—in addition to all other discounts for which you may qualify!