Real People. Real Projects. Real Stories.
DemoFest is an attendee favorite and one of the most fun and inspirational activities at DevLearn. This huge, science fair-like event is a collective showcase of eLearning examples from conference participants. Move from table to table, exploring a wide range of learning solutions, and discuss tools, tech, and processes with those who built them. Did we mention there are free drinks, too?
Don't miss DemoFest, Thursday, October 26, at 4:00p!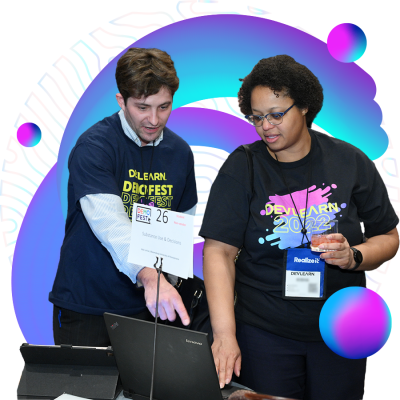 Build Your Network and Get Your Work Noticed
Presenting at DemoFest is an amazing opportunity to network at the conference, gain industry recognition, and get valuable feedback on your work. You might even win a DemoFest award!
There are two ways to participate:
Present
Gain industry recognition (you might win a Best of DemoFest award)
Share your work to help the community learn from your efforts
Get valuable feedback from other eLearning professionals
Deadline to submit is July 28, 2023.
Attend
Come see dozens of eLearning projects
Network with industry colleagues
Get some great ideas that you can apply to your work
Vote on your favorite solutions