Real People. Real Projects. Real Stories.
DemoFest is an attendee favorite and one of the most fun and inspirational activities at DevLearn. This huge, science fair-like event is a collective showcase of eLearning examples from conference participants. Move from table to table, exploring a wide range of learning solutions, and discuss tools, tech, and processes with those who built them. Did we mention there are free drinks, too?
Don't miss DemoFest, Thursday, October 26, at 4:00p!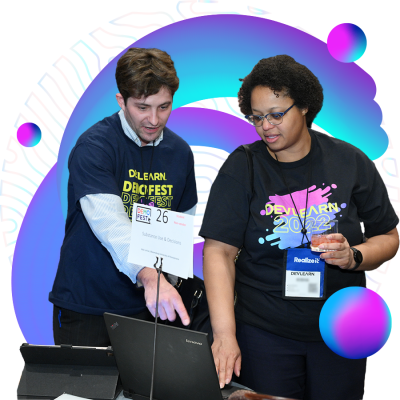 Build Your Network and Get Your Work Noticed
Presenting at DemoFest is an amazing opportunity to network at the conference, gain industry recognition, and get valuable feedback on your work. You might even win a DemoFest award!
This Year's Project Demos:
Medical Case Challenges with AI & Human Expertise
Course Summaries with Generative AI
Immersive Approach to Annual Cybersecurity eLearning
From In-person School to Online Tablet Programs
Enhanced Patient Education with Mobile Video Learning
The Hack'—Security Compliance eLearning Course
Personalized Care for LGBTQ+ Patients
Sitcom, Humor, Games
Interactive Digital Handbook for Sales Training
Blended Safety Training Solution
Delta Air Lines Reservation Instructional Game
Elevating Resource Protection Through Interactive Learning
THRIVE Through Change eLearning Course
Empowering Dutch Hospital Nurses with Adaptive Workflow Learning
Video Series Part 1: How to Complete Appeals Forms
Power Apps Education Explorer and Assignment App
Hurricane Preparedness eLearning
Re-Entry Game: Building Empathy and Driving Change
Deliver at Pace Managers Training Game
How to Apologize Animated Scenario
Project Management Game
Immersive Safety Training Video
Immersive Real Estate Appraisal Course
360 Viewers: Creating Immersive Learning Environments for Engineers
Esperanza Fire Staff Ride Simulation
IoT and E-Mobility Gamified Learning
SoftPhone System Simulation
The Road to Efficiency: Exploring Automotive eLearning Technology
Maximizing Intern Potential eLearning Course
Driver Orientation for the City of Markham's Fleet
Supportive Housing 101 eLearning
AI-powered 360° Learning: xAPI Capture
Interactive Resume Video
Create Your Own Leadership Adventure
AI-driven Chatbot for Sales Reinforcement
Leveraging Creative Tools to Elevate the Learning Experience
Piano Steam: A Video Game for Piano Fundamentals
Learning Design in VR
"How Well Do You Know Ireland?" eLearning/Game
Language Leap: A German Learning Adventure Game
No Mythstakes—How You Can Gamify Learning