Real People. Real Projects. Real Stories.
DemoFest is an attendee favorite and one of the most fun and inspirational activities at DevLearn. This huge, science fair-like event is a collective showcase of eLearning examples from conference participants. Move from table to table, exploring a wide range of learning solutions, and discuss tools, tech, and processes with those who built them. Did we mention there are free drinks, too?
Don't miss DemoFest, Thursday, October 27, 4:00p – 6:00p!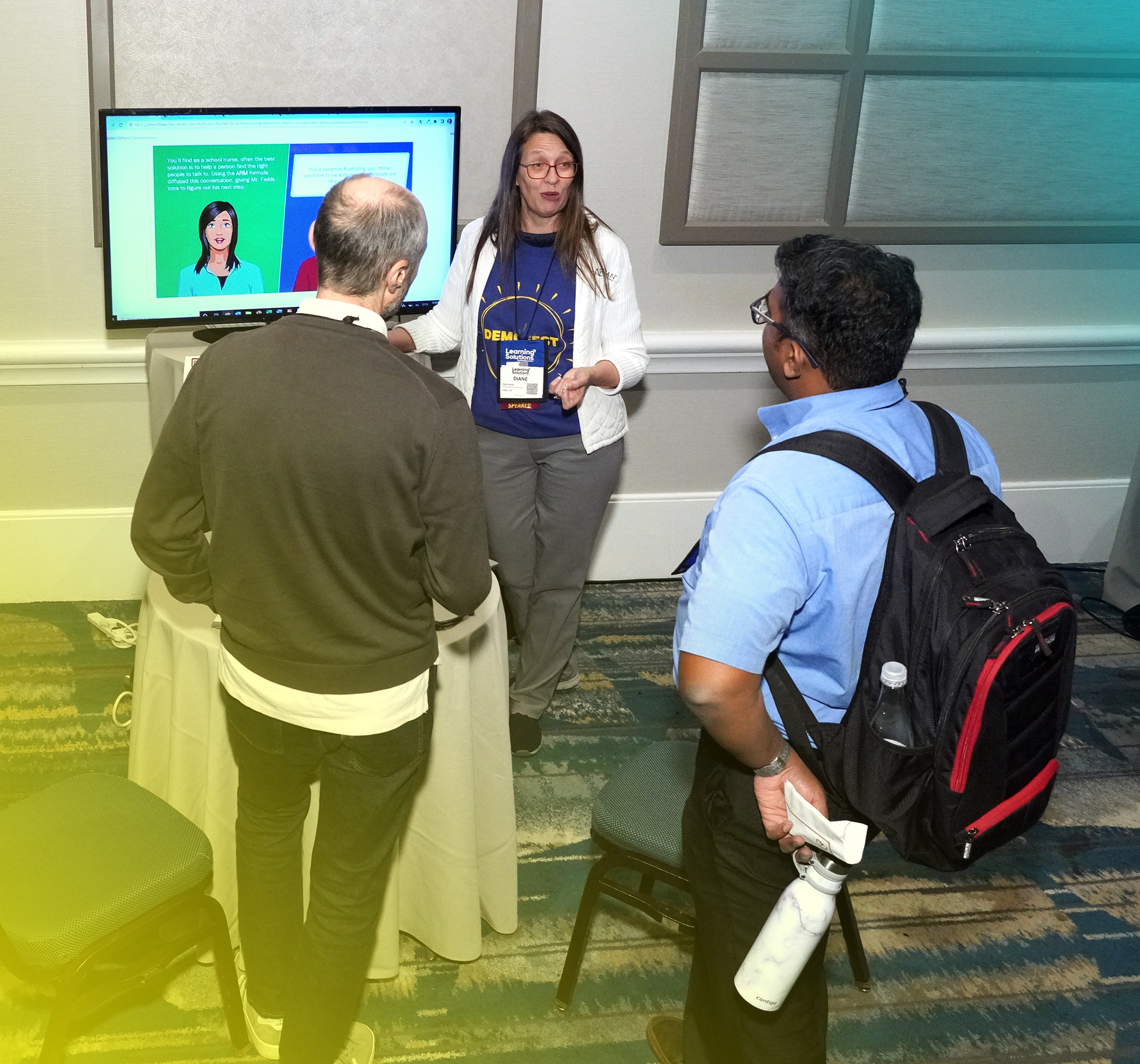 Sales Excellence SIM Using Custom HTML5
Daren Harber & Nancy Stokes, Aptara
Personalized Stock Management Software Training Course
Garima Gupta, Artha Learning
Work-life Alignment Leadership Course
Amy Morrisey, Artisan E-Learning
eLearning Safety Classification & Reporting Course
Tristia Hennessey, Evolve Solutions Group
Gamified DEI Mobile eLearning Course
Ruby Brattain & Julia Weber, Minnesota State University, Mankato
Office Practicum's Performance Podcasts
Shawn Rosler, Office Practicum
eLearning for the Future of Space Industry
Brooks Canavesi, Allen Interactions
Improving Information Searching Course
Mollie Peuler, Appalachian State University
Health Literacy eLearning Course
Diane Elkins, Artisan E-Learning
"How We Work" eLearning Module
Cath Ellis, Cath Ellis Learning Design
HVAC Model Number Game
Jen Yaros & Dan Keckan, Cinecraft Productions
Prezi Sequenced Technical Training Videos
Shireen Lakhani, Conference of State Bank Supervisors
Collaborative Island Escape Game
Rose Benedicks & Beth Beaupre, Dashe & Thomson
Animated Narration for Adobe Character Animator and AfterEffects
Tia (Teresa) Roberts, Delta Air Lines
Immersive VR Cosmetic Products Orientation
Jon Blackmon, ELB Learning
Sonic Dresser Build (Burgers & Sandwiches) Course
Alex Ryan & James Oakley, Evolve Solutions Group
Hotel Loyalty Program Training Course
Shanell Suter & Heather Berg, IHG
TA Employee Training Hub
Jeff Batt, Learning Dojo
Law Enforcement Non-confrontational Interview Skills Course
Amber Wood & Sarah Mercier, Learning Ninjas
Paramedic Students eLearning Course
Chen Yan, Medipro
Employee Productivity Issues Diagnosis Chatbot
Laila Rahman, Minnesota State Mankato University
Meaningful Discussions with Asynchronous AI-Supported Discussion Technology
Madison Smiley & Katie Kirchner, Minnesota State University – Mankato
Vessel Inspection VR Simulation
Destery Hildenbrand & Peter Wittig, Motive.io
Bottling Plant Virtual Tour
Tim Biery & Meghan Leonard, Niagara Bottling
Manager Conflict Resolution Skills Course
Elena Damo & Sam Loerts, OERG Consulting
"Pixelton Adventures"- Adolescent Game for Learning and Social Impact
Adam Trosper, Reflection Software
Employee Onboarding Digital Hub
Nick Floro, Sealworks Interactive Studios
Interactive Leadership Competencies Self-Assessment
Tracy Parish, Southlake Regional Health Centre
A 3-D Video Training for Slab Caster Dismantling Procedure
Vinod Ganjoo & Pradeep Kumar, Stratbeans Learning Solutions
Who Hacked? – A Microsoft Learn Cloud Game
Jaime McDonald & Katie Kinsella, The Game Agency, a division of ELB Learning
Disability Fundamentals Training Course
Derek Rowe, T-Mobile
eLearning Scavenger Hunt Improves Performance Support Use
Jen Hoeke, TorranceLearning
Interactive Smoothie making eLearning Course
Tory Hord, Tory Hord Consulting
Software Simulation eLearning
Deanna Flanagan & Mike Belknap, Trintech
Neuroanatomy AR App Tracy
Moore Clinical & Mike Wong, Pattern Recognition
360°/VR Scavenger Hunt
Joseph Vajda & Drew Romanyk, Assurant
Build Your Network and Get Your Work Noticed
Presenting at DemoFest is an amazing opportunity to network at the conference, gain industry recognition, and get valuable feedback on your work. You might even win a DemoFest award!
There are two ways to participate:
Present
Gain industry recognition (you might win a Best of DemoFest award)
Share your work to help the community learn from your efforts
Get valuable feedback from other eLearning professionals
The submission deadline has already passed for DemoFest. If you missed the deadline but are still interested in participating, please email programs@LearningGuild.com.
Attend
Come see dozens of eLearning projects
Network with industry colleagues
Get some great ideas that you can apply to your work
Vote on your favorite solutions