< Back
GS02

Unlocking Your Potential
4:00 PM - 5:00 PM PT
Wednesday, October 25
As learning professionals, we know that limiting beliefs and mental barriers can prevent individuals from reaching their full potential. Contrary to popular misconceptions, these barriers are not rare. In fact, they are present in our daily lives and can be self-imposed and seemingly impenetrable. Understanding these barriers can help us overcome them, enabling us to better support growth for our learners and for ourselves.
In this interactive keynote, Jeff Henderson shares his journey as a former convict turned celebrity chef, all while performing a speed-cooking demonstration on stage. Chef Jeff will share wit and wisdom about what being a "prisoner" really means, and how we can break free from these mental walls. He will share actionable insights on how to unlock a new perspective and lease on life based on his own experience of spending a decade in federal prison before achieving culinary acclaim. You will leave this keynote inspired to help individuals (including yourself) overcome their mental barriers and achieve their full potential.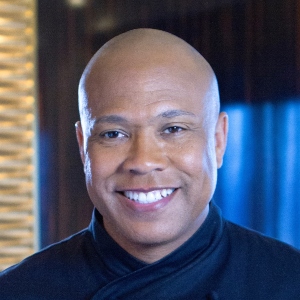 Jeff Henderson
Award winning chef and New York Times bestselling author
Chef Jeff Henderson started his culinary career in the unlikeliest of places: prison. While serving nearly a decade for drug dealing in Southern California, Jeff discovered an untapped passion for cooking. After his release, he worked his way up from a dishwasher to executive chef positions at the Bellagio and Caesars Palace in Las Vegas. His inspiring redemption story has been featured in many places including Good Morning America, The Steve Harvey Show, and in The New York Times, Newsweek, the Washington Post, and many others. In 2007 his memoir Cooked was released and quickly landed him on The New York Times Best Seller's list. Columbia Pictures has acquired the rights to his story, which is currently in development and will star actor Will Smith.